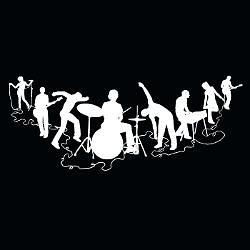 It's not very normal for a band to wait seven years before releasing their first album, but WE GO is not an entirely normal band. They consist of four modern dancers and four musicians and they create a mix between concerts and dance performances. Since 2004 the full ensemble of WE GO has created four large concert performances and a repertoire of several hours of music. The album is both a debut and at the same time a compilation of selected tunes from the last seven years.
Footsteps in the music
The album was recorded in Brussels, March 2010 and the recordings didn't exactly follow the path of an ordinary recording session. In some tunes the dance is so distinctly a part of the score that the choreographer had to direct the musicians in the studio with her movements and in the song 'Overrelease' you really hear her footsteps.
There have been a couple of replacements of musicians and dancers over the years, but both the former members American bassist Andrew Bergmann and Danish drummer Anders Provis feature on the album along with WE GO's current members.
CREDITS
DEBUT / BEST OF
All compositions by Niels Bjerg except for The Hunter by Niels Bjerg and Giovanni di Domenico and NAC#2 by Andrew Bergmann
Members of WE GO
Niels Bjerg – guitars
Giovanni di Domenico – Fender Rhodes, Yamaha CS50, piano and effects
Bruno Ferro Xavier da Silva – electric bass and effects
Joao Maria Lobo – drums
Anders Provis – drums
Andrew Bergmann - double bass
Kirstine Kyhl Andersen – dancing conductor and choir on NAC#2
Guests
Daniele Martini – saxophones on Overrelease
Jordi Grognard – saxophones on Overrelease
Pak Yan Lau - choir on NAC#2
Klaus Risager – recorder on NAC#2
DEBUT / BEST OF was recorded in March 2010 by Robbe Kieckens at Brussels Harp Center, Mixed December 2010 by Thomas Vang at The Village, Copenhagen Mastered December 2010 by John Fomsgaard at Karma Crew, Copenhagen
Produced by Niels Bjerg
Cover by Kirstine Kyhl Andersen
Update Required
To play the media you will need to either update your browser to a recent version or update your
Flash plugin
.
1.The Hunter
Niels Bjerg, Giovanni di Domenico, Bruno Ferro Xavier da Silva, Anders Provis
2.Interruption
Niels Bjerg, Giovanni di Domenico, Bruno Ferro Xavier da Silva, Joao Maria Lobo, Kirstine Kyhl Andersen
3.Kamikazoo
Niels Bjerg, Giovanni di Domenico, Anders Provis, Kirstine Kyhl Andersen
4.NAC#2
Andrew Bergmann, Niels Bjerg, Giovanni di Domenico, Bruno Ferro Xavier da Silva, Joao Maria Lobo, Kirstine Kyhl Andersen, Paq Yan Lau, Klaus Risager
5.Never Get Up
Niels Bjerg, Giovanni di Domenico, Andrew Bergmann, Joao Maria Lobo
6.Overrelease
Niels Bjerg, Giovanni di Domenico, Bruno Ferro Xavier da Silva, Joao Maria Lobo, Kirstine Kyhl Andersen, Daniele Martini, Jordi Grognard
7.Rocktune
Niels Bjerg, Giovanni di Domenico, Andrew Bergmann, Joao Maria Lobo
Copyright WE GO 2011 Distributed by Gateway Music
VIDEO AND PHOTOS FROM THE RECORDING STUDIO