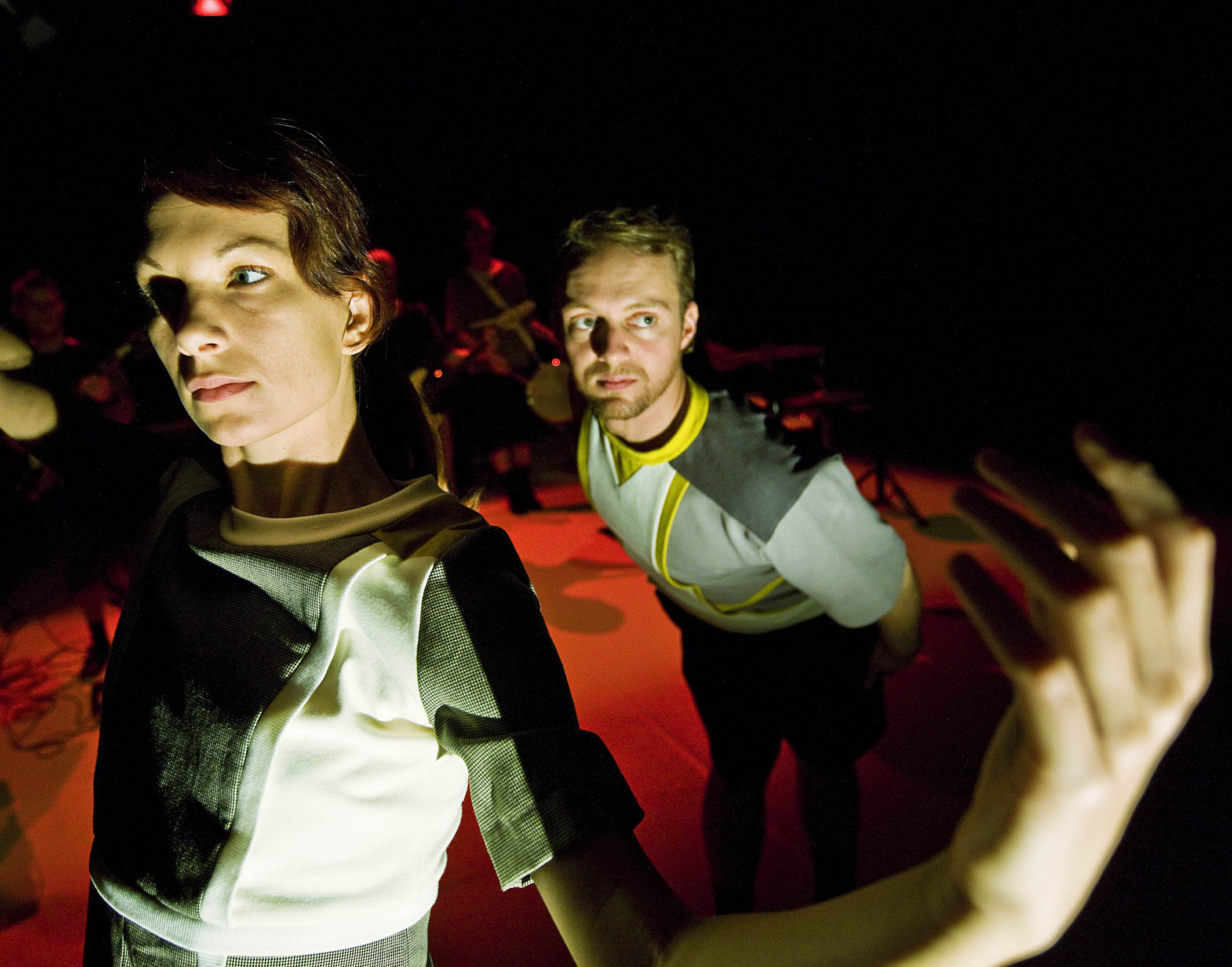 The performance is a co-production between WE GO and Entré Scenen, Aarhus, Denmark (2008).

COMPLETELY SIMULTANEOUSLY is an energetic hybrid between a live concert and a contemporary dance performance created for both theaters and music venues. Three dancers and four musicians perform equally as an ensemble in the same compositions. The performance doesn't impose a specific story, but rather creates a poetic, dark and humoristic universe with a sense of its own. It is a concert with twelve separate, tightly composed tunes each with a new objective in the narrative of the whole. The musicians and dancers expose their skills and limitations within their field of craft and with a touch of self-irony, daringly explore the difficulty of performing a craft that is not their own.

The performance premiered at Entré Scenen in Aarhus, DK during the jazzfestival and has been presented at Kaleidoskop/K1 in Copenhagen. For both presentations WE GO organised presentations of local bands after the performances.
Bands in Aarhus:
kARSTEN pFLUM, The artificial Limbs, Mixtune for Cully, Jacob Faurholt, La La Naïve, Green Lives, Bel Esprit and Snöleoparden.
Bands in Copenhagen:
Atoi, Prins Nitram, SPEkTR, The State The Market and the DJ, The Crroked Spoke, Won't lovers Revolt Now, Mads Mouritz Hørslev Projektet and Oh Land.
Completely Simultaneously has furthermore been presented on tour in Denmark at the following venues: Roskilde Teater, Nykøbing Falster Teater, Baggaardteatret - Svendborg, Lyngby Kulturhus, Esbjerg Teaterkreds, Hjørring Teater, Gjethuset - Frederiksværk, Kalundborg highschool, Galaxen - Værløse, Train - Aarhus, Tønder Teater, Teater Momentum - Odense and Odin Teatret - Holstebro and was also presented during the international showcase P@RT at Dansehallerne in Copenhagen 2009.
CAST
Niels Bjerg (DK), composer | guitarist
Kirstine Kyhl Anderen (DK), choreographer | dancer
Anders Provis (DK), drummer
Bruno Ferro Xavier da Silva (NL/P), bass player
Christos Papadolpoulos (G), dancer
Giovanni di Domenico (I), keys
Kasper Daugaard Poulsen (DK), dancer
Lights: Allard de Jaager (NL)
Sound: Baldur Kampmann (FO)
Costumes: Kamilla Hoffmann (DK)
Productionmanager in Aarhus: Sofie Van Nord (DK)
Productionmanager on tour + Copenhagen presentations:
Michael Bo Jacobsen Roepstorff (DK)
PR: Allan Richardt (DK)
Administration: Projektcenteret
*Amia Miang sometimes replaces either Kasper or Christos in this performance, and so does Kirstine. It's a little confusing.
COMPLETELY SIMULTANEOUSLY is made possible with the support by: The Danish Arts Council, The Arts Foundation, Sonning Fonden, Augustinus Fonden, Nordeafonden, The Municipalities of Copenhagen and Aarhus, KODA and DMF.
Thank you so much!
Photos from the performance during the showcase p@rt2009 at Dansehallerne in Copenhagen. All photos by Maia Hauser
Costume preparations by Kamilla Hoffmann