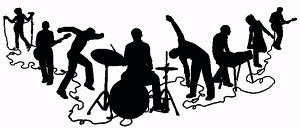 ABOUT WE GO
WE GO was founded in Amsterdam 2004 by choreographer/dancer Kirstine Kyhl Andersen and composer/guitarist Niels Bjerg. In 2006 they moved their base to Denmark, but remained with an international cast of four dancers and three musicians. Read more about the members under projects. Their concertperformances has been presented in Denmark, Canada, USA and Europe.
In 2004 their first production A PERFORMANCE IN CONCERT was produced as a collaborative final exam project between The School For New Dance Development The Conservatory of Amsterdam. Besides various presentations in Amsterdam the performance brought the young group twice to Barcelona.
In 2005 WE GO developed A PERFORMANCE IN CONCERT#2  during a production residency organised by Paradiso Melkweg Productiehuis (PMP) in Amsterdam. The performance was presented at The Melkweg Theatre in Amsterdam, Junge Hunde Festival in Copenhagen and toured The Netherlands in the fall of 2005. In 2007 a new version of A PERFORMANCE IN CONCERT was produced in co-production between Paradiso Melkweg Productiehuis (PMP) in Amsterdam and Entré Scenen in Aarhus (DK), which toured extensively during 2007 in Denmark, The Netherlands and Lithuania.
The same year Kirstine and Niels were awarded for their duet at the choreographic competition Dansesolution with the concertperformance AN ASSISTED SOLO#2 at Dansescenen in Copenhagen. The performance has been presented in Denmark, Sweden, Germany, Czech Republic, The Netherlands, Canada and Estonia. The performance is a development of Kirstine's endexam project at the School For New Dance Development. The final version AN ASSISTED SOLO#3 was created in 2007 and presented at The Junge Hunde Festival at Entré Scenen in Aarhus as well as at Randers Egnsteater, Teatret Møllen in Haderselv, Dansehallerne during P@RT2009 and during Small Inventory Festival in Prague (CZ).
In 2006 they created the quartet DUET DUET produced by Dansescenen in Copenhagen. The performance was also presented in Aarhus and Malmö. In 2006 the A PERFORMANCE IN CONCERT(#2) was co-produced by PMP in Amsterdam and Entré Scenen in Aarhus. For the presentations in Aarhus the performance were followed by concerts of the band [BOMBASTICO] each night.
In 2007 the street performance HIT & RUN with two dancers and one musician was created for Unesco's annual international celebration of dance, and presented for the first time on April 29th in Copenhagen. The group has attacked several unexpecting audiences in copenhagen on several occasions, and was also presented during Junction Arts Festival 2007 in Toronto.
In the fall 2008 WE GO created COMPLETELY SIMULTANEOUSLY with the ensemble of three dancers and four musicians in a co-production with Entré Scenen in Aarhus. A new local band was presented in the theatre each night after the stationary 16 performances at Entré Scenen and at Kaleidoskop/K1 in Copenhagen. Completely Simultaneously toured extensively in Denmark until the last presentation at Magasinet in Odense april 29th 2011.
Completely Simultaneously was made possible with support from the Danish Arts Council and local/private funds.
In 2009 WE GO recorded their first music album DEBUT / BEST OF. As the title indicates the album is a compilation of tunes selected from the different WE GO productions daing back to 2004. Besides WE GO, the recordings features former members of the group and various guest musicians.
In 2010 the album was released on April 30th with a grand release party at Warehouse 9 in Copenhagen with guest performances of a.o. Mads Mouritz, Prins Nitram, Jexper Holmen og Helle Fuglsang.
In 2010 – 11 WE GO did extensive research to find new material during various residencies both with all WE GOs members and in smaller groups. All residencies included public showings and feedback sessions with the audience and in some cases combined with workshops at local schools or theatres.
During 2010 – 11 WE GO had residencies at: Movement Research Center in New York, Teater Momentum in Odense, Laboratoriescenen at Dansehallerne in Copenhagen, Bora Bora (former Entré Scenen) in Aarhus, Brandbjerg Højskole and a 3 week production residency organised by Paradiso/Melkweg Productiehuis (PMP) in Amsterdam at Kauwgomballenfabriek.
The residency periods were made possible with support from the Danish Arts Council (Aktualitetspuljen).
In January 2012 WE GOs research came together in the performance MUSIC FROM MOVEMENT. The performance was developed during the production residency in Amsterdam, and the raw material presented as a work-in-progress at The Melkweg Theater from 27th-29th of January. Each night after the work-in-progress presentations, the Dutch band Knalpot played a concert in the theater. WE GO was happy to meet their audience in Amsterdam after a long break.
The music for MUSIC FROM MOVEMENT was recorded prior to the production during October 2011 in Amsterdam, Rotterdam and Copenhagen, and the premiere of the work-in-progress presentationon the 27/1 was at the same time release party of the completed album. The album guest features the Dutch duo Knalpot and the Rotterdam based band Doktor Schnitt with their very own versions of WE GO's numbers.
During June 2012 the performance had its final rehearsal period and was premiered at TEATER GROB from July 10th - 14th, during Copenhagen Jazz Festival. Each night after the performance a new and local band was presented in the theater, and became a mini festival within the Copenhagen Jazz Festival. The performance has since been presented stationary in Odense at Teater Momentum from 13th - 14th September 2012, and in Aarhus at Bora Bora May 7th - 8th 2013. Music From Movement has since been on tour in Denmark including presentations at Baltoppen in Ballerup and Odin Teatret in Holstebro.
The concertperformance is co-produced by Paradiso / Melkweg Productiehuis and supported by: The Danish Arts Council, Bikubenfonden, Augustinusfonden, Amsterdams Fonds voor de Kunst, SNS Reaal, DMF, The municipality of Copenhagen, Tuborg Fonden and Danmarks Nationalbank's Jubilæumsfond of 1968.
In 2013 during August and September WE GO produced a shorter version of the concert performance Music From Movement, for four musicians and dancers meant for young audiences ( 7 - 9th grade), in collaboration with Levende Musik i Skolen (LMS). As a nice surprise this mini version ended up being suitable for schoolchildren from 1st grade and all ages above, and we're now looking forward continuing as part of the touring network LMS in the coming season.
Music From Movement - mini premiered on September 19th with 10 presentations on tour, and was also selected to take part in the LMS showcase festival Musik i Tide and the Norwegian showcase festival Marked for Musikk in Larvik.
The performance is made possible with support from the Danish Arts Council and Nordeafonden.
In 2014 Music From Movement - mini  toured in Denmark from 17/09-03/10, organised by Levende Musik i Skolen (LMS). The performance was presented 35 times during 2014.
MUSIC FROM MOVEMENT - MINI will be presented at this years NOBA festival taking place in Tartu, Estonia and during Aprilfestivalen taking place in Frederiksværk, Denmark.
2014/2015 WE GO were in residence at Københavns Musikteater since August, where Kirstine and Niels worked with choreographing electro acoustic soundscores, and programming the specific movements of individual sounds or sequences in the space. That is possible to do when working with plenty speakers, so that's what we did! Lots of them!
Inspired by the tradition of acousmatic concerts and the ability to shift the whereabouts of the sounds origin, we investigated different ways of making that happen. We worked with dancers moving in space with the speakers, to see if it is possible to add a live dimension to the prerecorded score. We continue the research during 2016 in search of a supertight coordination between the movements generated by machine and the movements of dancers. A kind of man vs machine! Or maybe rather man in harmony with machine... Time will tell.
Next work in progress presentation will be in June 2016 when we conclude our research at Laboratoriescenen at Dansehallerne. Details will follow!
The researchproject is titled hello? and is supported by The Danish Arts Council, The Municipality of Copenhagen. Sponsored by Audiocase and generously supported by Københavns Musikteater and Dansehallerne
In 2016 Kirstine and Niels have been working with students from Lygten and Guldberg Skole in Copenhagen with the project Rum Lyd Lyd Rum  - as a continuation of the researchproject hello?

2017
A new concertperformance with the working title DEAD AWAKE, is planned before the summer. The performance will be based on the researchperiods we've had since 2014 - with the title hello?.
More information will follow soon!
Check our calendar for upcoming presentations and performances.