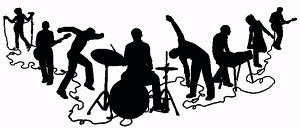 ABOUT WE GO
WE GO was founded in Amsterdam 2004 by choreographer/dancer Kirstine Kyhl Andersen and composer/guitarist Niels Bjerg. In 2006 they moved their base to Denmark. Read more about the different collaborators under projects.
Kirstine and Niels are on a constant search for different ways for sound and movement to collaborate and become one coherent entity, and their latest work is a series of soundportraits under the title OPTAGETHED 
Their concertperformances and researchprojects have been presented in Denmark, Canada, USA and Europe.
WE GO is a theatre association and the board memebers are:
Poul Erik Fabricius
Sara Holm-Strandby
Anders Holst
Check our calendar for upcoming presentations and performances.